English Premium + Live Teaching
The quickest way to become fluent in English
English Premium + Live Teaching makes it easier for you to become fluent in English! Practice online at your own pace and level and talk about what you have learned in your weekly 30-minute live lesson by one of our online teachers.
Live teaching helps you to actually use the words and sentences you have practiced online. You will develop better speaking skills and become more confident when speaking English. Your teacher will adapt the live lessons to fit your needs.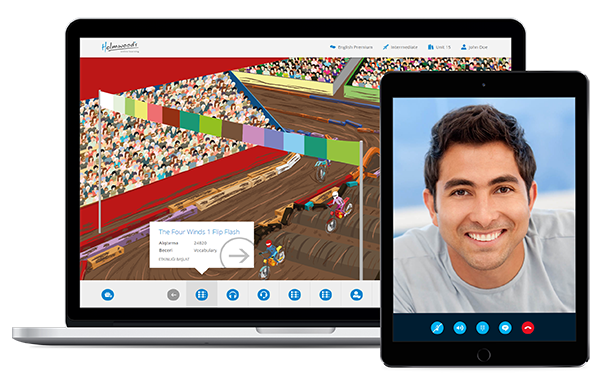 Pricing
English Premium + Live Teaching is available in two varieties: a 1-month subscription for €59 and a 3-month subscription for €149. Both subscriptions include unlimited access to English Premium and one 30-minute live lesson per week.
All prices are including VAT and valid through 31/12/2018
Free trial subscription
Do you want to try before you buy? Take out a free trial subscription and find out how the course works! You can use English Premium for free for 14 days, with a maximum of 50 exercises. A free 30-minute live lesson is included.